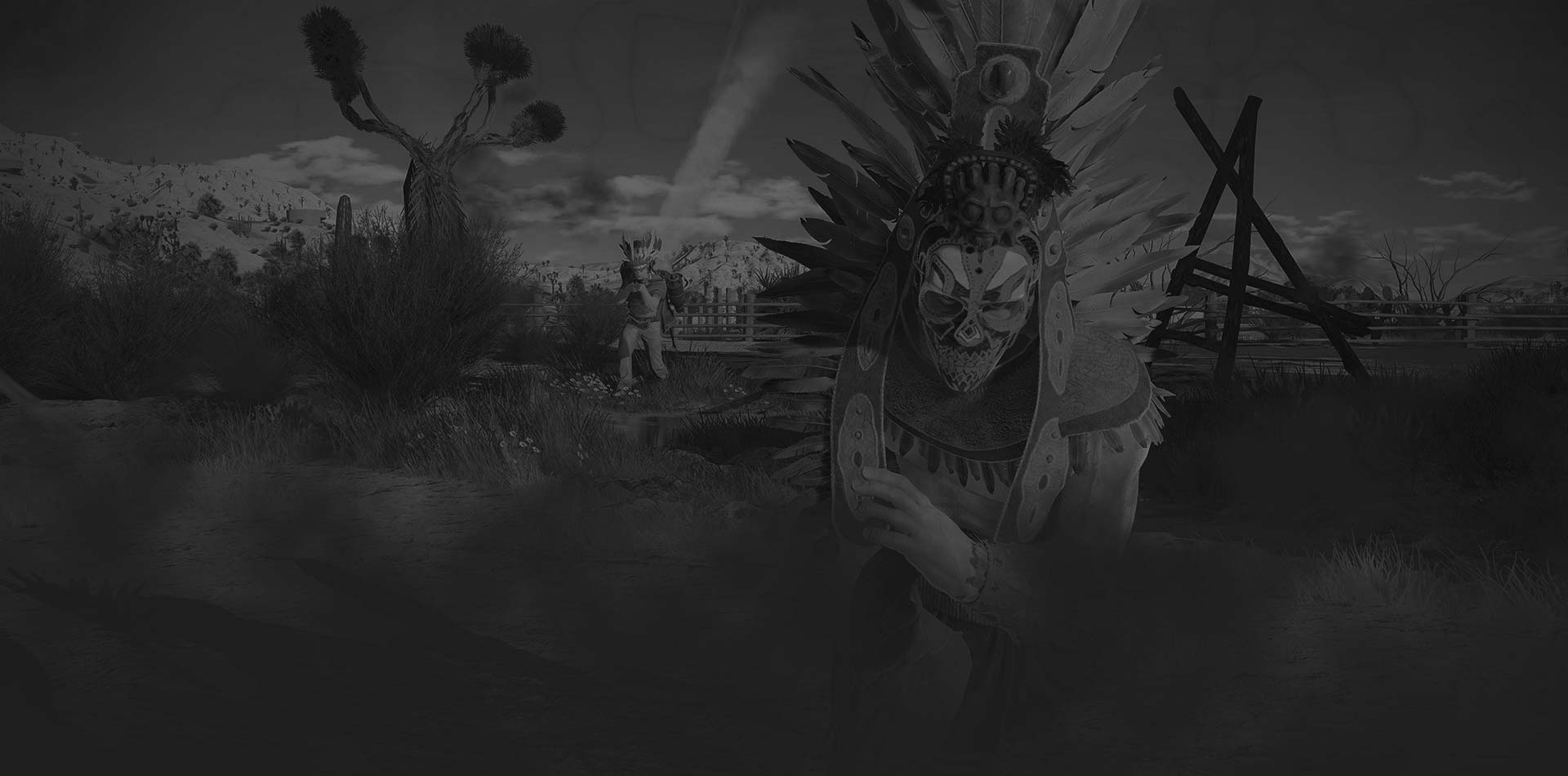 Meet the new season and major update — "I'mMortal"!
Thanks to your feedback, we've been working hard on balancing powers in the arena and making changes to Bram van Helsing's abilities! We've also added the community-favorite Cabaret Dancer outfit to the customization chest. But that's not all, as another champion is rushing to join us.
He may not have a fedora, but that doesn't stop him from being a troublesome, hardcore and influential gangster in the arena of the dark gods. Meet Nikolai Orlov: coming to the new season of the battle pass "I'mMortal"!

Nikolai "Deadhead" Orlov
Nikolai Orlov, a powerful business man who trades arms around the globe. Few people can boast of having met this man personally, and those who have — prefer to keep their mouths shut, because even the mention of his name instills awe in the hearts of skilled mercenaries and hardened criminals.
The profile of his activities was wide — from private security and cargo transportation to covert operations to change the government in Latin America. However, Orlov's true claim to fame was the arms trade. There is no client whose wishes he could not fulfill, and there is no weapon that he could not get.
Having learned about the deadly and dangerous game F.O.A.D. he used his connections and wealth to get there. Unlike other fighters, Nikolai didn't need a special invitation - Orlov's diamonds open any door.
Ability "Drone Strike"
For 15 seconds you gain control of the Attack Drone. At your command, the drone can fire a barrage of missiles at a selected point.
Each use of the drone requires money. The drone comes with a gift: a bulletproof vest and a firearm.

CRSED: F.O.A.D. — The Bear of Wall Street Pack
This pack includes:
Nikolai "Deadhead" Orlov — champion unlock
"Oligarch" outfit
"Gzhel" HK UMP 45 skin
700 Golden Crowns
Full list of changes
Added a new Champion — Nikolai "Deadhead" Orlov.
Added the ritual "Haze" — covers the battlefield in mist for 40 seconds.
Now, Bram does not ignore modifiers created by global rituals, bags or artifacts when the "Flock of bats" ability is activated.
Increased damage to Bram when the "Flock of bats" ability is activated.
Removed Bram's ability to eat when "Flock of Bats" is activated.
In the case of being on fire, Bram reverts to human form and will not be able to reset the burning effect by activating the "Flock of bats" ability. The ability is unavailable until the сhampion is extinguished.
Increased the damage of Ritual of Killing Sun on Bram from 1.5x to 2.5x.
Each turning into bat form now takes 2 seconds off of Bram's ability.
Falling from a great height after the ability ends causes Bram to become stunned.
In Revenant mode, additional loot is generated next to the respawned player.
Added new weapon skins for the UMP 45, DP-27, MG 42 and PPSh 41.
The spirit of a gambler is replaced by the spirit of capitalism and reveals not only all slot machines, but also vending machines.
Selecting a graphic preset in combat is now saved in the main menu.
A Cabaret Dancer outfit for Annie has been added to the customization chest.
Removed support for win32 version, added win64-min-cpu client.
Ritual of Silence: duration reduced from 45 to 30 seconds, cost increased from 200 to 250 souls.
The reload sound now stops if a reload is interrupted.
Fixed a bug that caused a lack of sight change sound on weapons in the inventory.
Changing the graphics settings in the game no longer causes the start message caption "Survive. Rob. Win." to reappear.
Fixed a bug that caused an extra line to appear at the end of the page in Hall of Fame lists.
Fixed a bug that caused multiple ricochet sounds when hitting water.
The flare gun container has been replaced with an unpacked gun and cartridge.
(PlayStation®) Changed the name of the "The dinner is served" trophy to "Dark gods champion".