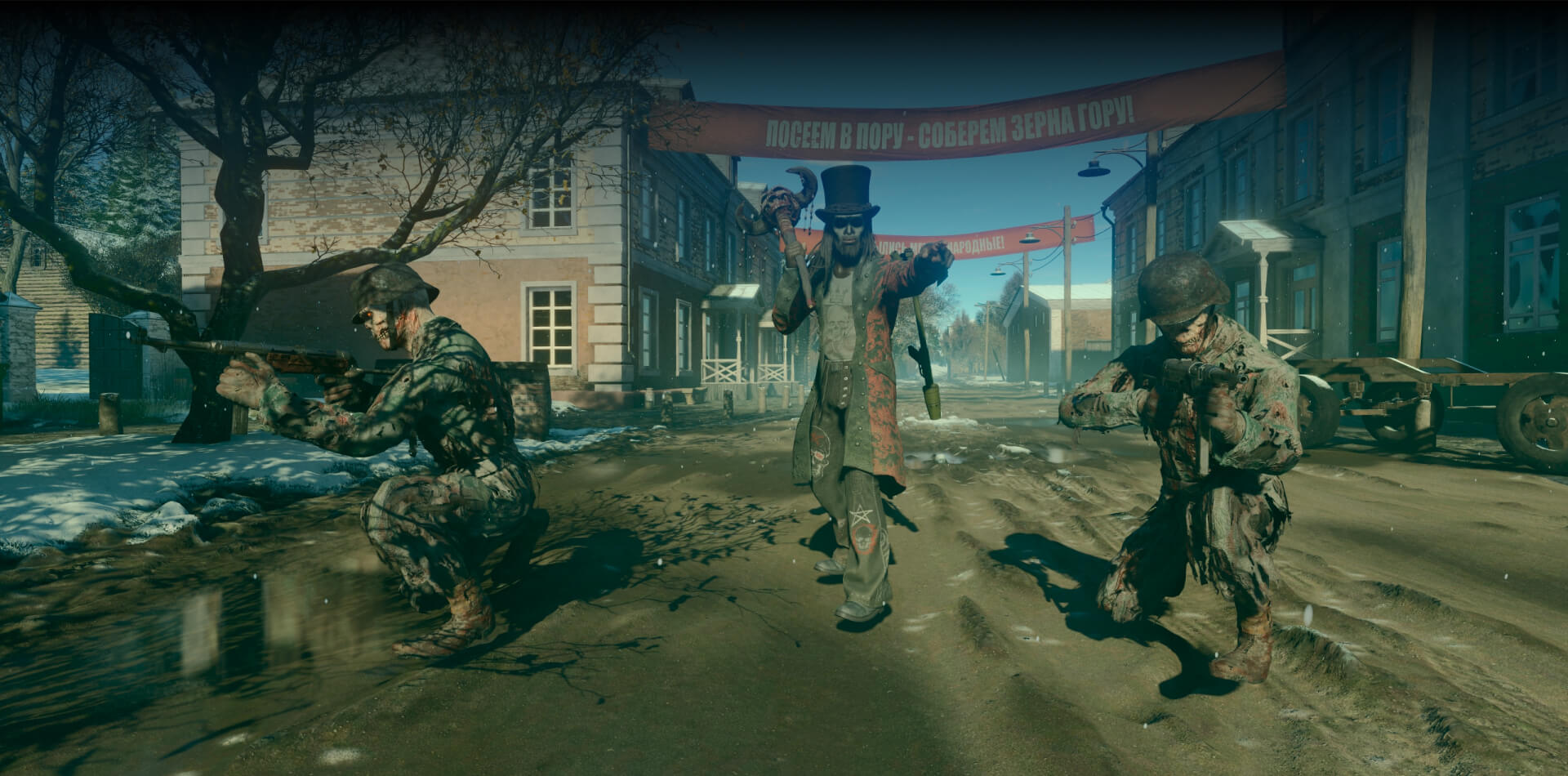 About
CRSED: F.O.A.D. — is a brutal MMO last-man-standing shooter with realistic weaponry, elements of lethal mystic forces and incredible superpowers!
Watch trailer
Unique champions
Eleven different champions to select - each one with a unique superpower.
See more
Picturesque locations
Massive and dense PvP battles: dozens of players begin their trip in one of the four picturesque and detailed locations, fighting their way to the centre of the battlefield. All the while, the battlefield itself shrinks constantly, surrounded by the deadly Dark Zone.
Realistic weapons
A constantly growing collection of realistically modelled weapons and armor, including anti-materiel guns, sniper rifles, assault rifles, rocket launchers, flamethrowers and mortars. There are few compromises in the game regarding physics or ballistics rules.
Encyclopedia of weapons
Useful items
Study surroundings carefully, there are many strange and useful items around you!
Mystical powers
There are mystical powers in game! Draw seals with your blood or conduct ancient rituals, throw hex bags at enemies and use your own special power. You can flood the whole map or cause the sun to eclipse, set up traps, summon zombies or teleport yourself or others the hell out of here. But first, one needs to collect sinner souls for killing enemies - to be able to pay for most of that luxury.
Vehicles
Different vehicles, military amphibians and speed boats will help to cover distances.
Stand out from the crowd
Stand out from the crowd with different costumes, masks, talismans, hats, gestures, graffiti and even underwear! Unlock new spirit-guardians to get additional tactical abilities in the battles.
Champion sets
Win using all your combat skills and experience
Rush into a gunfight, or use stealth to crawl in, snipe from afar or burst point blank, use precise bolt-action rifles or rely on a fast heavy machine gun. Backstab, slash and smash bones in melee or tear the enemy apart with rockets and grenades. Attack from above with a jetpack, spraying lead rain or request an orbital supply drop to trigger a new fight over it's content.
Special events and daily tasks
There are regular special events in the game with new rules and setups of battles and a system of daily tasks and secret missions rewarding players with unique items and powers.
Fair play TPV
You can play in first or third person view. In order to mitigate any advantage of the latter, every player has a familiar with a camera that can uncover the position of a player who is peeking around a corner. So if you see a butterfly or a drone - you should know that you are being watched.
New content is added frequently!
FAQ
CRSED: F.O.A.D. is a brutal multiplayer last-man-standing shooter with realistic weaponry, mystic traps and demonic rituals. Find out more information about the game on the official website, the CRSED: F.O.A.D. Steam page or on the Xbox shop page.
To play CRSED: F.O.A.D. you can use either your Gaijin.Net account or play via Steam.
The Gaijin.NET Agent is recommended for set up at first launch of the game. The Gaijin.NET Agent is harmless and safe. It tracks updates in CRSED: F.O.A.D. and downloads them to the game to its actual version (as well as any other Gaijin games installed on a PC). You can always turn off Automatic updates in the launcher settings. Steam players can update and launch the game directly from the Steam Library, without using the launcher and the automatic updater. Though, we still recommend the use of automatic updates, launching the game via the launcher. It will allow you to update the game to the actual version at any time.
The actual system requirements can be found on the main page on this website or on the game's Steam page.
You can switch the language in the Launcher or in the game settings (right click the game title in Steam library – Properties – Language) if playing via Steam.
Game questions
Up to 40 players take part in each session. Currently we have three modes available:
SOLO – a deathmatch where each player fights for themselves.
DUO – battles for 2-player squads (PC only).
SQUAD – battles for 3-player and 4-player squads. You can also try yourself in these battles fighting alone or in a team of two players.
Yes, you can find contacts in the game main menu, add other players to your friends list and invite them to join a squad to play together in DUO (2 players) and SQUAD (3-4 players) modes.
In games where both first person and third person views are available, the latter gives an advantage. A player can spot an opponent from behind an obstacle, while the opponent doesn't know he's been seen by his adversary nearby. In CRSED: F.O.A.D. each player has a minion, which carries a camera in third person view. The third person view camera-man reveals the location of a player when looking from a corner. So be on the lookout. If you notice a butterfly or a small helicopter suddenly appearing from nowhere – you are being watched. If you switch to first person view, your minion will land on your left shoulder (you can see it, using the mouse plus the 'C' key).
Yes, there are servers available for Europe, East Asia, Eastern Europe and North America.
In the game shop you can purchase a Battle Pass and gold crowns to create new items for futher customisation of your character, including mystic traps and rituals.
Account security and forbidden game modifications
Yes, in CRSED: F.O.A.D. we use the EasyAntiCheat system, which prevents unfair play and fraud. EasyAntiCheat follows a zero-tolerance strategy for unfair play in CRSED: F.O.A.D., and any account ban will be permanent.
Player passwords are not stored in a 'database' so it's literally impossible to 'steal' it. For authorization we use crypto-resistant salted hashes, which can't be used for obtaining player password, even if a malefactor ever gets access to the player database. Unfortunately, some of our players still use the same or similar logins and passwords to access different systems, which gives an attacker the best opportunity to steal information from unsecured sources and use it to compromise careless player accounts. We advise you to use a unique complex password for your CRSED: F.O.A.D. account; it will greatly improve your personal data security. To increase the protection of your account from hacking and theft attempts, you can enable a two-step authorisation system for your account utilizing the Google Authenticator service. This system has been introduced to protect your account in any case, even if a malefactor is able to get your password. To use the Google Authenticator, the only thing you will need is a smartphone based on either the iOs, Android or BlackBerry operating system. However, unofficial applications for Windows phone and desktop computers also exist. To enable the two-step authorisation, you will need to login at the general login page located at: https://login.gaijin.net/.
SYSTEM REQUIREMENTS
Minimum
OS: Windows 7 / 8 / 10 64bit
Processor: Intel Core i3 or better
RAM: 8 Gb
Videocard supported DirectX 11 or higher: Nvidia GeForce 560 or better, AMD Radeon series 77XX or better
Free disk space: 6 Gb
Recommended
OS: Windows 7 / 8 / 10 64bit
Processor: Intel Core i5 or better
RAM: 8 Gb
Videocard supported DirectX 11 or higher: Nvidia GeForce 1060 or better, AMD Radeon series RX480 or better
Free disk space: 6 Gb